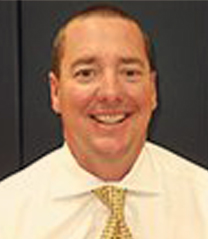 Paradise Valley Christian
Paradise Valley Christian - Kevin Woods
Kevin Woods is currently serving his 2nd year at Sunnyslope High School as an English teacher, and Varsity Assistant Baseball Coach and he coaches grade school basketball at Sts. Simon and Jude.
He spent 12 years prior to that at Bourgade Catholic High School teaching English, and coaching both baseball and basketball. He taught one year of English before that at La Joya Community High School. Before becoming a teacher, Kevin sold State Farm Insurance. Kevin is an Arizona native who attended St. Thomas the Apostle and Brophy College Preparatory. Kevin played basketball at the Freshmen and JV levels and caught and pitched for the baseball program all four years. After high school, Kevin attended The University of Arizona for his undergraduate and earned his Master's degree in Education from The University of Phoenix.
Kevin and his wife, Randi, were married in 2003, and they enjoy spending time with their boys, Dylan, 12, Jake, 10, and Daniel, 2. Kevin is looking forward to playing his 15th season in the MSBL, a men's baseball league in the Phoenix area.